What is the Kembé foundation
The Kembé Foundation is an initiative founded by students from the Rotterdam School of Management (The Netherlands) that aims to fight poverty through social entrepreneurship. All projects from The Kembé Foundation are sustainable. This means that the projects are financially viable so that, once established, they can run independently. The role of the foundation is to provide guidance and funds for setting up projects and eventually transfer them to the local community. The Kembé Foundation has a zero-overhead policy to ensure that every donated euro ends up at the intended project. That is why the foundation is run entirely by volunteers. "Kembé" is an expression used to encourage people in seemingly desperate situations: "stay strong don't give up!"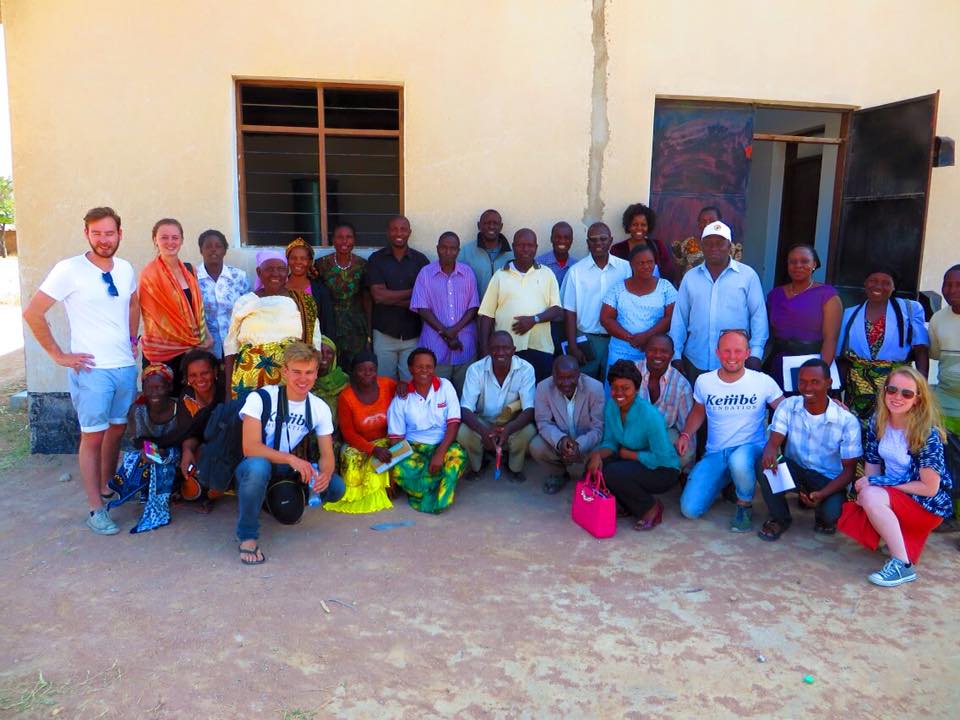 Hakika Project
For our latest project, the Hakika project, Kembé has partnered with Sharing Worlds Tanzania.
Sharing Worlds Tanzania is our partner for this project in the Dodoma region. Dodoma is actually the capital of Tanzania but situated in a very arid and poor geographical area. As most of the residents of this area rely on farming as their main source of income, this project is focused on farmers.
In the Hakika project we strive to provide local farmers training in best farming practices for sunflowers. Sunflowers are grown by farmers throughout the region. Their seeds are used for oil pressing. By providing training to farmers in small rural villages we strive to share best practices, whilst assuring the farmers that we will buy the seeds from them after they have been harvested.
Later in the year, after storing the seeds for a prolonged period on our storage facility, we can sell the seeds at a premium. This allows us to cover the costs of the trainings we provide and transportation of the seeds. By providing the farmers with a secure moment of income they are better able to plan financially whilst also getting a fair price for their harvest.
Milk for India
Milk is an important part of the (mostly vegetarian) diet in India. We noticed, however, that the general availability of this product is not always in line with demand for certain regions. With students of the Erasmus University, we mapped the supply chain of the milk industry in Dehradun (a city in one of the poorer areas of India) to pinpoint inefficiencies in the production process. In theory, Dehradun is an excellent location to produce milk with the right climate and environment. Nevertheless, due to lack of knowledge, we established that supply is a merely 50% of demand and production c. 10x less efficient then in, for instance, the Netherlands.
A model farm in Dehradun
To tackle the knowledge gap, Kembé has set up a model farm where best practices of cow farming are applied. We have invited multiple local communities each with a number of farmers to provide trainings and help on optimization of production. Complementing initiatives included: animal health programs, breading programs and joint buying of cow feed. Next to the educational aspect, the project provided in jobs and supplied milk to the orphanage of the partner organization.
Mission complete
We see our project in India as a great success. In the past five years, the production of milk by the local farmers increased significantly. Also, we provided in jobs and milk for the orphanage of our partner organization. The Indian government later on has decided tackle to shortage of milk production by targeted production of milk in certain areas of India, combined by a better distribution network. Dehradun was not selected making local production no longer feasible nor efficient (essentials, such as cow feet and medication are becoming scarce). We are pleased to see that there is some great progress in solving the problem locally so in line with our mission statement, the local community is taking care of themselves again! The Kembé building as well as land will be added to the orphanage and together we will look for ways to optimize our impact. We would like to thank our donors and local partner (Hope Home) for making this possible.
Project Pa Lagé
Pa Lagé is a creole saying for don't give up. The goal for the project is to help those who are in need most and we identified the region of Gros Morne in Haiti. Driven by a vulnerable economy, unemployment rates are >80% and food supply is underdeveloped. We therefore aim to empower the local community by creation of jobs and establishing a sustained food supply in the region of Gros Morne.
A chicken farm in Gros Morne
To increase the availability of nutritious food, Hens for Haiti and Kembé have collaborated with Caritas to set up a Hen House for the production of eggs. With 1.500 hens laying 1.200 eggs per day, we aim to cover c. 15% of the local market. Note that we aim to facilitate local production as opposed to being in competition. The identified benefits of our project are education, job provision (5 direct, 25 indirect), sustainable local food supply and less waste in the transportation of products.
Mission Complete
For a number of years, the hen house in Gros Morne has provided an important source of nutrition for the local community, created a number of jobs (mostly empowering local women selling the eggs on markets) and served as a foundation of the development of the agricultural sector in the area. Over time, the overall production level of chicken related products was reestablished in cooperation with local farmers. Our goal is to empower local people to become independent of development aid and as far as the hen house and chicken industry, our mission is complete! We have transferred the production activities to local farmers and are looking for a new meaningful impact of the Hens for Haiti hen house and plot of land. We would like to thank our donors and local partner (Hens for Haiti and Caritas) for making this possible.
100
Number of farmers helped in Tanzania
200
Number of acres farmed
30
Number of trainings given